Take a look at this statistic!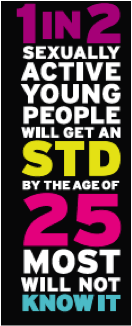 Got your attention, right? It certainly got ours! As you can see, rates of Sexually Transmitted Infections (STI) are especially high among young people. This month, during STI Awareness Month, you are encouraged to advocate for STI testing in your community. So, if you know anyone under the age of 25- a daughter, son, niece, nephew, grandchild, or just a friend- discuss this information with them and encourage them to be proactive about their sexual health.
What factors do you think influence high STI rates?
Who will you share this with today?
Is just talking about it enough? Is there anything else we can do?
Share your thoughts below with other blog readers.
And, don't forget, STI's don't discriminate based on age-EVERYONE should know about STI's. Encourage everyone you know to get tested!
To find testing sites in your area go to: www.hivtest.cdc.gov/