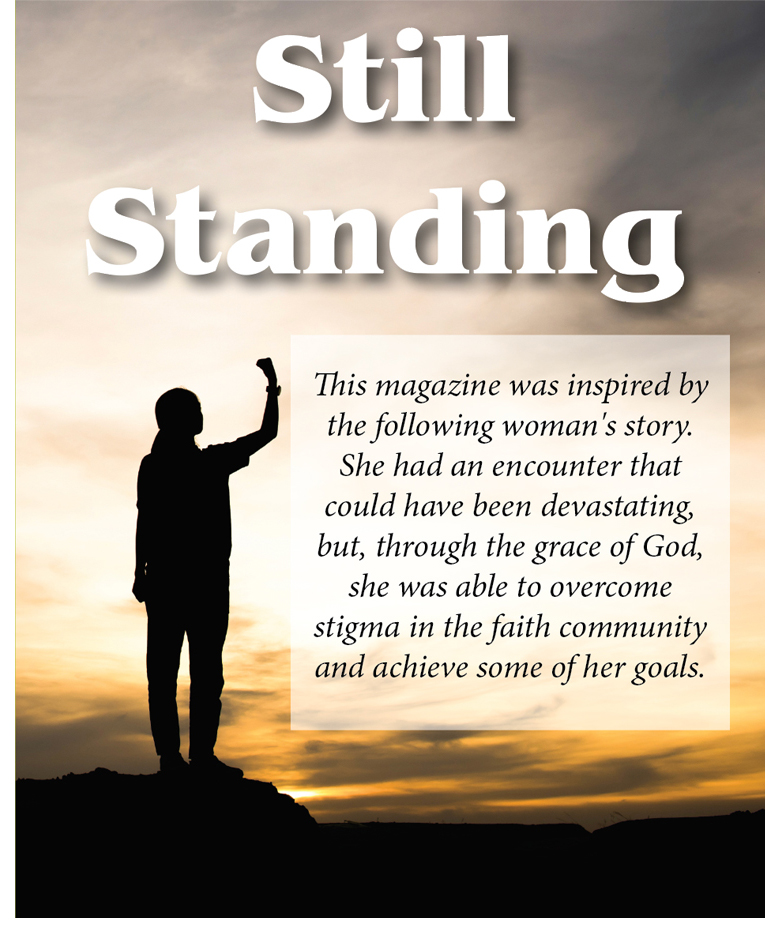 Several years ago, I was at a point in my life where I was suicidal. A close friend of mine was telling me about a pastor, "This pastor is trustworthy and very supportive. You can go and talk to him about anything. He will give you the best advice and you don't have to worry about anything."
I was at my breaking point and I needed help. I don't even remember calling the pastor. I just reached out. I just remember being in tears. I don't know if I was drunk, I don't know what was going on. I just knew I was thinking about suicide.
Wanting to trust someone and seeking help and guidance in a spiritual way, I went to see the pastor that my friend suggested. With the pastor, I shared everything from before my diagnosis of HIV, after my diagnosis, my good, my bad, my wrongdoing. I told this pastor everything. It was so comforting. The response that I received, the reassurance at that time, was so real and so loving. I just felt so comfortable that there was a home there for me and my children.
I trusted this person so much and this was my last resort for trust. I had been betrayed by family, friends, the streets, and by the school system. Sometimes, I feel like I even betrayed myself. I wanted to be accepted, to know that I'm not any different than anyone else. To not be put in a box or feel like I'm in a cage because of what I'm telling. All I was looking for was acceptance.
A few months later, after disclosing my HIV diagnosis to my pastor, we were at a church event, but there was also a group of people there that I didn't know and didn't trust.
During the sermon, the pastor began to speak about my health situation. At first, my name was not brought up, but my health situation was. My pastor didn't refer to my correct diagnosis (HIV), but he referred to it as "sick." That hurt me, knowing that it was me he was talking about.
As he continued with the sermon, he disclosed my name. I felt so stripped, bare naked with no cover, and everyone was waiting on my response. I couldn't run anywhere. I was right there in the middle of everybody and they all knew who I was. I felt betrayed and couldn't believe he just straight up did this to me after I had told him what happened to me, and to turn around and call me "sick" and expose my name was a straight betrayal.
I can't really explain my feelings at that time; it felt like someone just pulled my heart out. It just had me feeling like the world was not real. Like God was not real. It made me feel like, "I turned to you and this is what you do to me." At the time, I didn't realize that men can use God as a cover-up to do their dirty work. I did not have any thoughts of suicide, but at that time, I felt like God did betray me like there is no God. I kept asking God, "How could you let someone do this to me after I let them know what's going on?" I looked to this man of God, I came to him to get to God, but I know now that it was ungodly, it was not right.
Even though this happened to me, I think others need to disclose their status to their congregation because not everyone is educated about HIV. People will take stuff, will run with it, even if they have a mature mind. The church is like a hospital, people come in, they have different issues: depression, anxiety, cancer, life issues. The church is the mental hospital, the healing hospital, the counselor, the teacher. I feel like people should be able to walk into the church, feel relief in the church, but you can't because every church is not the same. Every leader is not the same spiritual advisor.
I think pastors should put themselves in that person's shoes and say, "What if this was me?" Look at it as if it was one of your loved ones – do not judge them. Let them know it's okay. Always have open arms, listen, pay attention, be real. The worst thing you can do is betray them. When you betray them, you're betraying God, because God put them there so you can reassure them. This is God's way of using you to bring an individual to him. We need more people to be real.
Be careful who you trust. I'm still learning. But, also have faith and trust in God. I know now that you don't have to turn to people to reassure yourself that God is real. Would you rather stand by God and be judged by the crowd or stand by the crowd and be judged by God? I say that because the crowd can leave your side at any time, but God will always be there.
– Unhurt